Close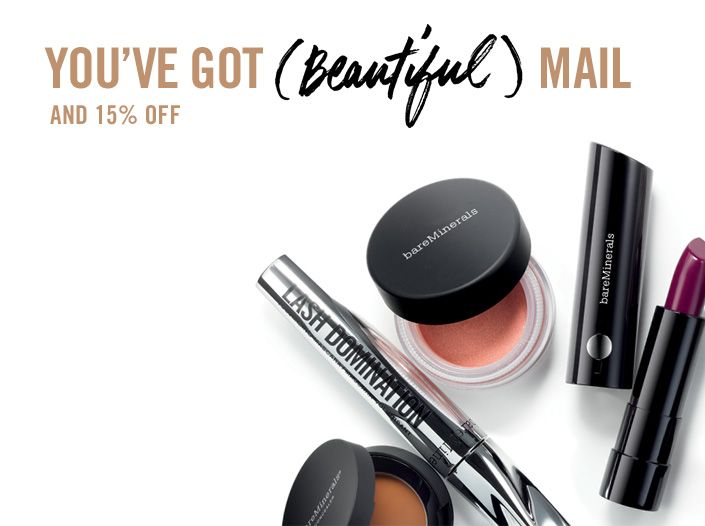 Give your inbox the make-under it deserves. Sign up to receive emails from yours truly. Receive an e-mail with a code for 15% off your next order. You'll be the first to know about NEW products, score tips & tricks, find out what's happening on the bareBlog…and so much more.
LET'S KISS & MAKEUP
Sorry for letting you down with this broken link. We hate keeping you from getting your beauty fix.
Click here to get your shopping (back) on.
Marvelous Moxie® Lipgloss
Color: Show Off
Description: A baby pink shade
Coverage: Sheer-to-medium
Texture: Satiny-smooth
Finish: Glistening shine
Embark on a total thrill glide with Marvelous MoxieTM Lipgloss. Luscious, vibrant color loaded into a refreshing formula that slips on satiny-smooth for sheer-to-medium coverage with nonstop glistening shine. Lips look fuller and more voluptuous. Naturally-derived Shea, Avocado and Murumuru butters help to deeply hydrate and smooth lips while an infusion of minerals revitalizes lips for a healthy-looking pout. All the while, an encapsulated vitamin A, C and E complex helps to deliver antioxidant defense, so you're ready for anything—and everything.
Size: 4.5 mL / 0.15 Fl. Oz.
Brilliant sheer-to-medium color
Nonstop shine
Glides on satiny-smooth
Fabulously full, deeply moisturized lips that won't quit
Real Results:
Clinically tested to deliver smoother, hydrated, fuller-looking lips
100% of women experienced an improvement in lip hydration after 48 hours.*
80% of women showed an improvement in the look of lip fullness after 48 hours.*
*Based on an independent U.S. clinical study
Hydrogenated Polyisobutene, Tridecyl Trimellitate, Polyglyceryl-2 Triisostearate, Octyldodecanol, Bis-Diglyceryl Polyacyladipate-2, Microcrystalline Wax (Cera Microcristallina/Cire Microcristalline), Trimethylolpropane Triisostearate, Stearalkonium Hectorite, Menthone Glycerin Acetal, Butyrospermum Parkii (Shea) Butter, Persea Gratissima (Avocado) Butter, Vp/Hexadecene Copolymer, Silica Dimethyl Silylate, Ethylhexyl Palmitate, Euphorbia Cerifera (Candelilla) Wax (Candelilla Cera/Cire De Candelilla), Vanillin, Tribehenin, Mentha Piperita (Peppermint) Oil, Astrocaryum Murumuru Seed Butter, Lavandula Angustifolia (Lavender) Flower Wax, Retinyl Palmitate, Tocopherol, Ascorbyl Palmitate, Sorbitan Isostearate, Zinc Gluconate, Copper Gluconate, Sodium Chloride, Palmitoyl Tripeptide-1. May Contain (+/-): Mica, Carmine (Ci 75470), Titanium Dioxide (Ci 77891), Iron Oxides (Ci 77491, Ci 77492, Ci 77499), Red 6 (Ci 15850), Red 28 Lake (Ci 45410), Yellow 5 Lake (Ci 19140), Blue 1 Lake (Ci 42090).
Rated 4.4 out of 5 by 118 reviewers.
Rated 4 out of 5 by Samanthan368 Wish I would have chose a diffrent color I like the actual lip gloss, but wish I would have got another color. I purchased the smooth talker . Online it looked more softer and not so bright. Its actually really pink and shiny. I like more natural colors and this is just to pink for me. I will not return it b/c I will wear it over my other lip sticks, but next time I will probably go to the department store to choose a color. 03/28/2013
Rated 5 out of 5 by aperez A glamourous yet everyday lipgloss You'll need this gloss for the summertime coming up. It's got all the wonderful gold and pink shimmers that compliment any skintone. Tastes like candy! 03/03/2013
Rated 5 out of 5 by mylo Lovely Lip Gloss The first time I tried Moxie Gloss I liked it more than I was expecting. Delicate and smooth. Love the tip. Truly felt like elegant lip gloss. I have many by now but my favorite color is Dare Devil. Got it in a kit and boy am glad. I never would have purchased one that looked that dark in the tube but wow! So pretty more pigment that expected but still sheer. I've been in love with Buxom lip products since I first tried BE 6-7 yrs ago. Since hearing Buxom is no longer made by BE I would like to stop using them but I can't yet. Hoping BE makes a Moxie line to match Buxom! 02/27/2013
Rated 5 out of 5 by Rachel1230 Best lipgloss I have every wore I have never been a lip color girl only chapstick for me. I now don't feel my face is complete without this lip gloss I am so in love with the color and feel. It is not sticky and it is very light even when my hair blows in my face I don't pull it back and smear lip gloss all over my face!! I love the tingle it is so fresh feeling. I also love the colors I have both show off and spark plug. When I went in to try these the sales person was amazing and encouraged me to purchase the lip liner in earth it is like getting 3 colors out of each lip gloss you can wear it alone put a light line on and wear during the day it also very slightly changes the color or I can put on a strong line and have an instant date night lip!! Such a great idea!! I love all the looks so much!! I am going to buy more colors for sure! 02/14/2013
Rated 5 out of 5 by Certifiedbeauty Perfect pink I love this lip gloss! It's long lasting and is very light on the lips. Not to mention the added mint in this gloss makes it smell so delicious! 02/09/2013
Rated 5 out of 5 by michybelle Dreamer is my favorite lipgloss EVER I got Dreamer in the "Hot to Trot" set and I am absolutely in love with it. Though I really liked all the other colors, this particular shade is gorgeous. The formula is comfortable with a slight tingle and isn't sticky at all. LOVE!!!! I will end up getting the full size of this color. 02/05/2013
Rated 5 out of 5 by AshBlue I LOVE this lipgloss This is a great lipgloss and it gives a minty tingle to your lips which actually feels good. For me it's a reminder that my lips are lookin gorgeous! But anyway I have Marvelous Moxie Lipgloss in "Daredevil" which I LOVE. It's such a perfect color for me that I know I will be purchasing for life. I have dark brown hair, light blue eyes, and medium beige skin tone and this is the perfect darker shade for my lips. Berry colors work great if your color is similar to mine. The only thing I would say about this product is that I would like it to be a little creamier and smoother on my lips. BUT I STILL LOVE. And yes the applicator is perfect and genius making it super easy to apply. It's just the right angle for lip application. 02/05/2013
Rated 5 out of 5 by Ravenlor Trail Blazer I bought this color on a whim and it has turned into one of the best glosses in my bag. It is the best color to pair with a Day Smokey Eye look. It slightly plumps my lips. And as a gloss adds shine without being overly sticky tacky. I always get complements when wearing it. I am in love with this shade. 02/04/2013
Rated 4 out of 5 by lalares fabulous! this lipgloss is fabulous! I just wish they had the "smokin hot" color permanently! its the perfect pinkberry color for the season!!! :( 01/08/2013
Rated 5 out of 5 by SageA2011 Best Lipgloss Ever! I recently purchased this lip gloss in spark plug and love it. It gives my lips a slight cooling sensation and smells amazing. I will definitely be purchasing more of these. 01/02/2013
Rated 5 out of 5 by quesoluver Hot shot is the perfect pink. Makes my lips look like a child's pigmented pink lips. The color looks quite bright and a little scarey, but it goes on sheer. Applicator applies the perfect amount evenly. Love this gloss. Ive noticed a decline in the performance of my bux0m since selling, so happy to have an alternative. 12/27/2012
Rated 4 out of 5 by Amleigh Applicator is Just Amazing!! I am NOT typically a gloss wearer. I tend to really play up my eyes and don't want to dray attention from them, but I recently purchased one of the Moxie glosses and I am in love. To say that the Applicator is Innovative is an understatement. The fact that it is at the most perfect angle for application of the gloss is GENIUS!! Why hasn't all gloss applicators been created this way before? This is just a testament that BE has got the best technology to make us ladies feel gorgeous. The gloss itself is wonderful. It gives a slight tingle, though I would call it more of a cooling sensation that says, "I can feel my lips and my are they Gorgeous!!" I have gotten several compliments when wearing the gloss and will continue to use!! Pretty is what you are. Beauty is what you do with it!! 11/29/2012
Rated 5 out of 5 by KayP Amazing Color! This lipgloss is luscious and the color is perfect with my skintone. I love to wear it anytime of the day and it lasts pretty long too! Overall great product and great color. 11/20/2012
Rated 3 out of 5 by ydelle love the color I love the color -Smooth Talker-but it is too sticky and menthol feeling. When I kiss anyone I feel like I am leaving my lips on them. I love how the color shows on my lips I just would like less Vicks feel 11/20/2012
Rated 5 out of 5 by Steph123 I'm obsessed. I just received this lip gloss in my Ipsy (My Glam bag). I can honestly say I have tried just about every gloss on the market and nothing compares to this. The color is perfect! I thought it was going to be dark because of the packaging but it is the perfect shade. It lasts much longer than most glosses and the applicator is great! I just came to this site to purchase a full size. My new favorite. 11/16/2012
Rated 4 out of 5 by Katniss A Bit Expensive But Really Lovely Its a bit expensive but it was so worth it. mine had a bit of a minty flavor/scent which was nice. The colors were beautiful and i absolutely love it. It doesn't wear off in a short amount of time like some do. its also very natural looking. 11/04/2012
Rated 4.4 out of 5 by 118 reviewers.
Rated 4 out of 5 by Samanthan368 Wish I would have chose a diffrent color I like the actual lip gloss, but wish I would have got another color. I purchased the smooth talker . Online it looked more softer and not so bright. Its actually really pink and shiny. I like more natural colors and this is just to pink for me. I will not return it b/c I will wear it over my other lip sticks, but next time I will probably go to the department store to choose a color. 03/28/2013
Rated 5 out of 5 by aperez A glamourous yet everyday lipgloss You'll need this gloss for the summertime coming up. It's got all the wonderful gold and pink shimmers that compliment any skintone. Tastes like candy! 03/03/2013
Rated 5 out of 5 by mylo Lovely Lip Gloss The first time I tried Moxie Gloss I liked it more than I was expecting. Delicate and smooth. Love the tip. Truly felt like elegant lip gloss. I have many by now but my favorite color is Dare Devil. Got it in a kit and boy am glad. I never would have purchased one that looked that dark in the tube but wow! So pretty more pigment that expected but still sheer. I've been in love with Buxom lip products since I first tried BE 6-7 yrs ago. Since hearing Buxom is no longer made by BE I would like to stop using them but I can't yet. Hoping BE makes a Moxie line to match Buxom! 02/27/2013
Rated 5 out of 5 by Rachel1230 Best lipgloss I have every wore I have never been a lip color girl only chapstick for me. I now don't feel my face is complete without this lip gloss I am so in love with the color and feel. It is not sticky and it is very light even when my hair blows in my face I don't pull it back and smear lip gloss all over my face!! I love the tingle it is so fresh feeling. I also love the colors I have both show off and spark plug. When I went in to try these the sales person was amazing and encouraged me to purchase the lip liner in earth it is like getting 3 colors out of each lip gloss you can wear it alone put a light line on and wear during the day it also very slightly changes the color or I can put on a strong line and have an instant date night lip!! Such a great idea!! I love all the looks so much!! I am going to buy more colors for sure! 02/14/2013
Rated 5 out of 5 by Certifiedbeauty Perfect pink I love this lip gloss! It's long lasting and is very light on the lips. Not to mention the added mint in this gloss makes it smell so delicious! 02/09/2013
Rated 5 out of 5 by michybelle Dreamer is my favorite lipgloss EVER I got Dreamer in the "Hot to Trot" set and I am absolutely in love with it. Though I really liked all the other colors, this particular shade is gorgeous. The formula is comfortable with a slight tingle and isn't sticky at all. LOVE!!!! I will end up getting the full size of this color. 02/05/2013
Rated 5 out of 5 by AshBlue I LOVE this lipgloss This is a great lipgloss and it gives a minty tingle to your lips which actually feels good. For me it's a reminder that my lips are lookin gorgeous! But anyway I have Marvelous Moxie Lipgloss in "Daredevil" which I LOVE. It's such a perfect color for me that I know I will be purchasing for life. I have dark brown hair, light blue eyes, and medium beige skin tone and this is the perfect darker shade for my lips. Berry colors work great if your color is similar to mine. The only thing I would say about this product is that I would like it to be a little creamier and smoother on my lips. BUT I STILL LOVE. And yes the applicator is perfect and genius making it super easy to apply. It's just the right angle for lip application. 02/05/2013
Rated 5 out of 5 by Ravenlor Trail Blazer I bought this color on a whim and it has turned into one of the best glosses in my bag. It is the best color to pair with a Day Smokey Eye look. It slightly plumps my lips. And as a gloss adds shine without being overly sticky tacky. I always get complements when wearing it. I am in love with this shade. 02/04/2013
Rated 4 out of 5 by lalares fabulous! this lipgloss is fabulous! I just wish they had the "smokin hot" color permanently! its the perfect pinkberry color for the season!!! :( 01/08/2013
Rated 5 out of 5 by SageA2011 Best Lipgloss Ever! I recently purchased this lip gloss in spark plug and love it. It gives my lips a slight cooling sensation and smells amazing. I will definitely be purchasing more of these. 01/02/2013
Rated 5 out of 5 by quesoluver Hot shot is the perfect pink. Makes my lips look like a child's pigmented pink lips. The color looks quite bright and a little scarey, but it goes on sheer. Applicator applies the perfect amount evenly. Love this gloss. Ive noticed a decline in the performance of my bux0m since selling, so happy to have an alternative. 12/27/2012
Rated 4 out of 5 by Amleigh Applicator is Just Amazing!! I am NOT typically a gloss wearer. I tend to really play up my eyes and don't want to dray attention from them, but I recently purchased one of the Moxie glosses and I am in love. To say that the Applicator is Innovative is an understatement. The fact that it is at the most perfect angle for application of the gloss is GENIUS!! Why hasn't all gloss applicators been created this way before? This is just a testament that BE has got the best technology to make us ladies feel gorgeous. The gloss itself is wonderful. It gives a slight tingle, though I would call it more of a cooling sensation that says, "I can feel my lips and my are they Gorgeous!!" I have gotten several compliments when wearing the gloss and will continue to use!! Pretty is what you are. Beauty is what you do with it!! 11/29/2012
Rated 5 out of 5 by KayP Amazing Color! This lipgloss is luscious and the color is perfect with my skintone. I love to wear it anytime of the day and it lasts pretty long too! Overall great product and great color. 11/20/2012
Rated 3 out of 5 by ydelle love the color I love the color -Smooth Talker-but it is too sticky and menthol feeling. When I kiss anyone I feel like I am leaving my lips on them. I love how the color shows on my lips I just would like less Vicks feel 11/20/2012
Rated 5 out of 5 by Steph123 I'm obsessed. I just received this lip gloss in my Ipsy (My Glam bag). I can honestly say I have tried just about every gloss on the market and nothing compares to this. The color is perfect! I thought it was going to be dark because of the packaging but it is the perfect shade. It lasts much longer than most glosses and the applicator is great! I just came to this site to purchase a full size. My new favorite. 11/16/2012
Rated 4 out of 5 by Katniss A Bit Expensive But Really Lovely Its a bit expensive but it was so worth it. mine had a bit of a minty flavor/scent which was nice. The colors were beautiful and i absolutely love it. It doesn't wear off in a short amount of time like some do. its also very natural looking. 11/04/2012