Close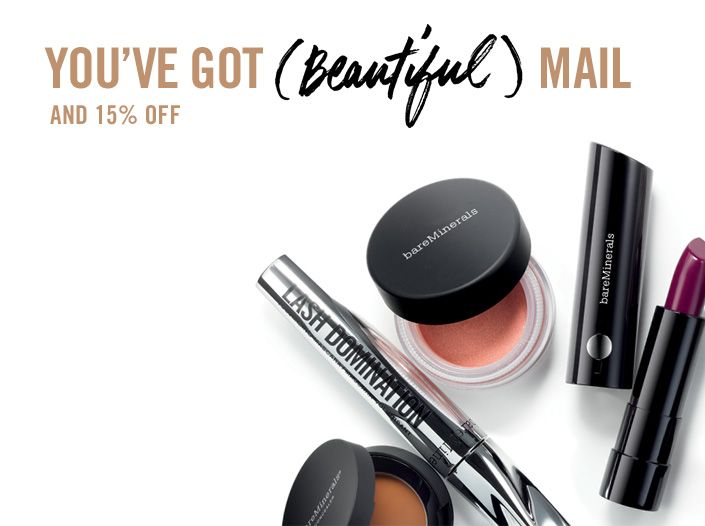 Give your inbox the make-under it deserves. Sign up to receive emails from yours truly. Receive an e-mail with a code for 15% off your next order. You'll be the first to know about NEW products, score tips & tricks, find out what's happening on the bareBlog…and so much more.
LET'S KISS & MAKEUP
Sorry for letting you down with this broken link. We hate keeping you from getting your beauty fix.
Click here to get your shopping (back) on.
Marvelous Moxie® Lipgloss
Color: Hot Shot
Description: A flamingo pink shade
Coverage: Sheer-to-medium
Texture: Satiny-smooth
Finish: Glistening shine
Embark on a total thrill glide with Marvelous MoxieTM Lipgloss. Luscious, vibrant color loaded into a refreshing formula that slips on satiny-smooth for sheer-to-medium coverage with nonstop glistening shine. Lips look fuller and more voluptuous. Naturally-derived Shea, Avocado and Murumuru butters help to deeply hydrate and smooth lips while an infusion of minerals revitalizes lips for a healthy-looking pout. All the while, an encapsulated vitamin A, C and E complex helps to deliver antioxidant defense, so you're ready for anything—and everything.
Size: 4.5 mL / 0.15 Fl. Oz.
Brilliant sheer-to-medium color
Nonstop shine
Glides on satiny-smooth
Fabulously full, deeply moisturized lips that won't quit
Real Results:
Clinically tested to deliver smoother, hydrated, fuller-looking lips
100% of women experienced an improvement in lip hydration after 48 hours.*
80% of women showed an improvement in the look of lip fullness after 48 hours.*
*Based on an independent U.S. clinical study
Hydrogenated Polyisobutene, Tridecyl Trimellitate, Polyglyceryl-2 Triisostearate, Octyldodecanol, Bis-Diglyceryl Polyacyladipate-2, Microcrystalline Wax (Cera Microcristallina/Cire Microcristalline), Trimethylolpropane Triisostearate, Stearalkonium Hectorite, Menthone Glycerin Acetal, Butyrospermum Parkii (Shea) Butter, Persea Gratissima (Avocado) Butter, Vp/Hexadecene Copolymer, Silica Dimethyl Silylate, Ethylhexyl Palmitate, Euphorbia Cerifera (Candelilla) Wax (Candelilla Cera/Cire De Candelilla), Vanillin, Tribehenin, Mentha Piperita (Peppermint) Oil, Astrocaryum Murumuru Seed Butter, Lavandula Angustifolia (Lavender) Flower Wax, Retinyl Palmitate, Tocopherol, Ascorbyl Palmitate, Sorbitan Isostearate, Zinc Gluconate, Copper Gluconate, Sodium Chloride, Palmitoyl Tripeptide-1. May Contain (+/-): Mica, Titanium Dioxide (Ci 77891), Iron Oxides (Ci 77491, Ci 77492, Ci 77499), Red 6 (Ci 15850), Red 28 Lake (Ci 45410), Yellow 5 Lake (Ci 19140), Blue 1 Lake (Ci 42090).
Rated 4.4 out of 5 by 118 reviewers.
Rated 5 out of 5 by Chloelove Buzz I love these lip glosses. I wear Hot Shot. I think this color looks great on everybody. I love the little buzz my lips feel after applying. Don't ever discontinue these lip glosses. 05/18/2014
Rated 5 out of 5 by RiDiMones I love this Gloss My lips peel all the time. I've tried several glosses and lipsticks, even chap sticks. As soon as those products wore off, my lips would start to peel. I have been using Marvelous Moxie for less than a week and my lips haven't peeled once since I started using it. Will definitely be purchasing other colors soon! It's not sticky or goopy. LOVE IT! 05/14/2014
Rated 5 out of 5 by MeganXOXO Wow! I got this lip gloss in a trial set containing a mineral blush and a luminizer as well. When I first tried the product, I was in shock on how good the color, Smooth Talker, looked on me. The lip gloss applies so easily to my lips, and it doesn't feel sticky compared to other lip glosses I have tried in the past. I highly recommend it. 05/04/2014
Rated 5 out of 5 by Mooser Love the Moxie in Glamourista Great gloss. Perfect color and shine, not too much. I got a new color called Glamourista in a auto delivery kit off of qvc. I am begging please, please, please, please, bring Glamourista into a full time color. It is perfect everyday look. Love the mint tingle. I would love to buy more of it. Please dont make me go to ebay to find it. I am newer to bareminerals, but getting hooked more and more with every new product I try. 04/29/2014
Rated 5 out of 5 by keegs218 I'm borderline obsessed with this lipgloss I am a lip gloss fanatic. I have a drawer full and keep about 8 in my purse at any given time. I LOVE lip gloss. When I first got this I was sort of appalled at the price tag. Nearly $20 for lip gloss, whaaa?... then I used it. OH MY WORD! First of all, it goes on SO smooth and the applicator shape is brilliant. It's NOT sticky at all, which I love. The slight tiny hint of mint feels AMAZING on your lips, I will even reach for this gloss before chap-stick! And the colors are GREAT. So many to choose from! The darker colors have good payoff and the lighter ones give great shimmery shine. I will admit, since I am such a lip gloss junkie and I have so many I rarely finish a tube in a reasonable amount of time..... But the first tube I got is now 3/4 of the way gone in months, THAT is how much I love this gloss!!! 04/25/2014
Rated 5 out of 5 by FLsunlover Best lipgloss ever! Bought a couple of these the other day. These are hands down the best lip glosses I have ever tried. I love the way they look and last and the way they feel cool when you apply. These are better than a lot of the pricier brands IMO. 04/04/2014
Rated 1 out of 5 by dwick My first experience with BE products I just received my first ever kit from BE. This is the only product with which I am disappointed. It is so sticky, I don't like the gold flecks, and it is really a bit too glossy for someone of my age. I really prefer more of a stain, so that the color lasts and I can just reapply a light gloss periodically during the day. I won't be purchasing Marvelous Moxie in the future. 04/03/2014
Rated 5 out of 5 by acs987 Perfect This lip gloss is the best I've ever used! At first, it made my lips tingle a little, but that passed fairly quickly. Not sticky or tacky. Colors are wonderful. I recommend this product to all my friends, and they love it when they try it. 03/18/2014
Rated 5 out of 5 by SonyaL Marvelous Moxie Lipgloss I love the look and feel of this lipgloss. Why is Maverick still out of stock? It's been months!! 02/11/2014
Rated 1 out of 5 by sweetpea11 Leaves 'sticky' feeling Not impressed. Left my lips feeling like they had glue on them. Color is nice if you can deal with the sticky feeling. Returned mine. 02/06/2014
Rated 4 out of 5 by In LOVE Easy breezy grab and go I was/am a Buxum lady but tried a few Moxies in kits that I purchased. FYI most I fell in love with are ONLY available in kits:( since results were good thought I'd try Daredevil love this one. Nice pop but still low key. Tried again with Game Changer again nice true color. You can apply over Pretty Amazing and get that strong red red lip. Both can be layered for stronger color. No drying of the lips. Didn't give all 5 starts because I have reapply more then I like:( 02/05/2014
Rated 5 out of 5 by ChloebellesMommy Best lipgloss I've EVER USED! I've got this lipgloss in Daredevil and Stunner and a few other colors that came in some collections. I love the way it feels on my lips, it works better on chapped lips to heal than any "chapstick" I've ever used! The colors truly enhance your lips and doesn't look like you've caked color on your lips. I no longer wear ANY lipstick. I just stick to this lip gloss. I've even used it on my 5 year old and 3 year old in a very light neutral shade when their lips were very chapped to help their cracked lips and no one even knew they had anything on their lips because it was just so natural! 02/02/2014
Rated 5 out of 5 by MissD22 Best Lipgloss by far Love love love this lipgloss. Doesn't feel sticky on the lips and gives just enough colour to wear alone or on top of lipstick. Definitely be purchasing more of this product. 02/01/2014
Rated 5 out of 5 by Slater Amazing lipgloss I absolutely love this lipgloss and almost anything from Bare Minerals. The lipgloss really compliments my skin tone. It does not irritate my lips. It does not dry my lips out or come off easily. 01/19/2014
Rated 3 out of 5 by risser Doesn't Hit the Mark While this lip gloss definitely has the color, I find this lip gloss a little bit lacking. I have five different lip glosses from various kits, four which are full size. All of the colors except for one look surprisingly good with my medium beige skin tone. I have Sparkplug (as a mini) and four full-sized from a kit I bought which are: Future Star, Real McCoy, Free Spirit, and Dreamer. The only one I don't like is Dreamer because even though it's more a nude tone, it makes my lips look orangey, which is strange for my rosey lips. My biggest complaint about the lip glosses though are the weird taste they give off. They smell a bit almost like root beer and although I don't eat my lip gloss, the taste still goes into my mouth and is gross. My other complaint is that the lip glosses are too sticky. I really prefer Neutrogena's MoistureShine lip gloss though because it gives a great color (like BE) but also lasts a while with no taste. All in all, the BE's lip gloss misses the mark for me though. I wear it for shine over the Moxie lipstick to give an added pop, but I'll stick to Neutrogena. I guess I just can't get over the taste or smell especially because it makes other things I eat/drink taste that way too. 12/24/2013
Rated 5 out of 5 by WendyR Love this gloss I love this gloss, fills in lines for a smoother and plumper look. Now that its colder in NYC I wear it over JACK OF ALL TRADES lip balm. 11/27/2013
Rated 5 out of 5 by LovingATX Only Moxie for Me I love to use my moxies alone or on top of a lip colors. My lips look plump and put together. My favorite was the limited edition Stylista, a nude peach! 10/30/2013
Rated 5 out of 5 by FLBeachBlonde Wow! Before I used this product, I was skeptical because, I have tried and been disappointed by natural lip glosses by other brands and the price was a bit steep for me but, boy was it worth it! The first time I used it, I fell in love and had to buy all of the sets! All of the colors are stunning, plumping, and non-sticky! I highly recommend this product! 10/14/2013
Rated 5 out of 5 by shellbell12 Love this Gloss The Marvelous Moxie line is the best lip gloss I have ever used. There's something about it when you first put it on that just feels amazing. It feels high quality. And it smells so good! 10/04/2013
Rated 5 out of 5 by Sienna Moxie show off lipgloss This is a very pretty lipgloss. It has a beautiful sheen and a nice pumping effect to the lips. I recommend going into a boutique to find your perfect shade as some colors look different online versus in person. 10/01/2013
Rated 5 out of 5 by elizey7 Best Lipgloss Ever I was anxious about trying this new lipgloss, because I thought the shape of the wand would feel awkward on my lips. I was very pleasantly surprised, however, when I realized that the application process felt incredibly natural. I had a blister on my lip when I tried it, and when I took off my makeup before I went to bed, I was pleasantly surprised that the blister had improved. Not only does the lipgloss apply well and feel amazingly soft, but it actually improves the overall health of your lips. I LOVE THIS!!! 07/10/2013
Rated 5 out of 5 by Jenerator8 First Time User, Lifetime Convert! I purchased a sample kit of Moxie Lipgloss at the Bare Excentuals store in the mall because the price was incredible. I usually use blistex because it makes my lips feel good. I hate lipstick and have been purchasing tinted lip balm. Not anymore. Moxie lipgloss is amazing. Minty tingle and odor. No awful taste. It totally completes my face. I have been getting tons of compliments on my makeup and the only thing I've changed is that I now wear Moxie. It actually makes me look younger because my lips look fantastic. I got six colors in the kit and I love them all. I keep the one I'm wearing for the day either in my pocket or on my desk. You have to understand, this is true conversion. It may actually now be an addiction. Now that I have said this, Bare Escentuals better keep these around. I will be so lost without them. This is now my favorite product. It actually makes me feel good about my makeup. 07/03/2013
Rated 5 out of 5 by kanika My First Favorie Lipgloss!!!!! I never used to like lipgloss before using moxie(tried buxom before, which was ok too). This is less pigmented than buxom original & full color lipglosses in particular(love 1 or 2 colors in both). I like the slight plumping, rich colors in this are the best like my all-time favorite Dare devil & Ring leader(light but very pretty & unique), then nudes or neutrals Risk taker/Free spirit/Rule braker & in lip liner in revved. Only wish and a dream come true is that they were made vegan. BTW, Packaging is nice(black color cap is elegant , but matching the cap with lipstick color would be great convenience).Thanks.... 07/02/2013
Rated 5 out of 5 by SynN So great it's almost ridiculous I just received my tri-monthly BE shipment and inside was a deluxe sample of Marvelous Moxie Lipgloss in Maverick. I literally put it on 10 minutes ago and just had to write a review. First of all, Maverick is a color that I would never choose for myself (it looks quite dark on the site and only slightly lighter in the bottle, & I have very fair skin) but I have to say it looks crazy amazing on! Not to mention the fabulous minty feeling, not overwhelming, it starts off subtle and grows to a nice steady cooling sensation. Not as important, but still nice to note is that it smells kind of delicious when you open the bottle. I'm not generally one to write a review, and honestly this product needs no endorsement or introduction, but I wanted to get this out there for the people who don't wear lipgloss / are on the fence / haven't had a chance to sample it / don't know if it's worth the money. This really is awesome and everyone should find a way to try it out at least once. 06/22/2013
Rated 5 out of 5 by aljf9977 Natural plump juice lips I never wear makeup so this is my first time buying a lip gloss. I choice the rebel color cause it gave a natural color. I love it! And want to buy a bright color that will show off my lips more. Very happy with my purchase. Price in a little high but I'm ok with it! I'm so happy with this gloss! 06/11/2013
Rated 5 out of 5 by jb0922 Fantastic Product!! I use MOXIE lipgloss every single day. In fact, I keep it out on my desk during work! I LOVE Rebel. It has a minty tingle when you use it that I just love for an extra burst of special. Have tried other lipglosses in the past, but MOXIE is the very best. It stays in place, and is long-lasting. Definitely my new go-to for my lips! I highly recommend it if you haven't tried it. You're sure to find the perfect color to compliment your complexion too! A fantastic product! Thanks so much! 05/30/2013
Rated 5 out of 5 by Sunstreakedred Finally Found The One... ...Perfect Lip Gloss! Natural and light with a soft subtle plump and lovely sheen. Maverick is the perfect color for any occasion, day or night. 05/29/2013
Rated 5 out of 5 by Terra Daredevil Daredevil is my new favorite color! It definitely stands out against my fair complexion. I love it! 04/29/2013
Rated 5 out of 5 by Louie Keeps moisturizing for hours! I purchased Rebel and plan to order it again. This lip color is very moisturizing and lasts for hours. I wish it was a little less sticky, but that is probably the property that makes it last so long. I do a lot of talking and smiling working with the public so I need something that is not going to wear off. The color Rebel is perfect; a beautiful pink that is not overpowering and yet it complements my dark brown eyes and salt & pepper gray hair. Love this product. Would highly recommend. 04/23/2013
Rated 3 out of 5 by TravelQween Bad Flavor I purchased the Maverick shade and love it. However, the smell and taste seem kind of "off" to me. I've never had this problem before and don't wear it as much as I would if it weren't for the taste. 04/13/2013
Rated 4.4 out of 5 by 118 reviewers.
Rated 5 out of 5 by Chloelove Buzz I love these lip glosses. I wear Hot Shot. I think this color looks great on everybody. I love the little buzz my lips feel after applying. Don't ever discontinue these lip glosses. 05/18/2014
Rated 5 out of 5 by RiDiMones I love this Gloss My lips peel all the time. I've tried several glosses and lipsticks, even chap sticks. As soon as those products wore off, my lips would start to peel. I have been using Marvelous Moxie for less than a week and my lips haven't peeled once since I started using it. Will definitely be purchasing other colors soon! It's not sticky or goopy. LOVE IT! 05/14/2014
Rated 5 out of 5 by MeganXOXO Wow! I got this lip gloss in a trial set containing a mineral blush and a luminizer as well. When I first tried the product, I was in shock on how good the color, Smooth Talker, looked on me. The lip gloss applies so easily to my lips, and it doesn't feel sticky compared to other lip glosses I have tried in the past. I highly recommend it. 05/04/2014
Rated 5 out of 5 by Mooser Love the Moxie in Glamourista Great gloss. Perfect color and shine, not too much. I got a new color called Glamourista in a auto delivery kit off of qvc. I am begging please, please, please, please, bring Glamourista into a full time color. It is perfect everyday look. Love the mint tingle. I would love to buy more of it. Please dont make me go to ebay to find it. I am newer to bareminerals, but getting hooked more and more with every new product I try. 04/29/2014
Rated 5 out of 5 by keegs218 I'm borderline obsessed with this lipgloss I am a lip gloss fanatic. I have a drawer full and keep about 8 in my purse at any given time. I LOVE lip gloss. When I first got this I was sort of appalled at the price tag. Nearly $20 for lip gloss, whaaa?... then I used it. OH MY WORD! First of all, it goes on SO smooth and the applicator shape is brilliant. It's NOT sticky at all, which I love. The slight tiny hint of mint feels AMAZING on your lips, I will even reach for this gloss before chap-stick! And the colors are GREAT. So many to choose from! The darker colors have good payoff and the lighter ones give great shimmery shine. I will admit, since I am such a lip gloss junkie and I have so many I rarely finish a tube in a reasonable amount of time..... But the first tube I got is now 3/4 of the way gone in months, THAT is how much I love this gloss!!! 04/25/2014
Rated 5 out of 5 by FLsunlover Best lipgloss ever! Bought a couple of these the other day. These are hands down the best lip glosses I have ever tried. I love the way they look and last and the way they feel cool when you apply. These are better than a lot of the pricier brands IMO. 04/04/2014
Rated 1 out of 5 by dwick My first experience with BE products I just received my first ever kit from BE. This is the only product with which I am disappointed. It is so sticky, I don't like the gold flecks, and it is really a bit too glossy for someone of my age. I really prefer more of a stain, so that the color lasts and I can just reapply a light gloss periodically during the day. I won't be purchasing Marvelous Moxie in the future. 04/03/2014
Rated 5 out of 5 by acs987 Perfect This lip gloss is the best I've ever used! At first, it made my lips tingle a little, but that passed fairly quickly. Not sticky or tacky. Colors are wonderful. I recommend this product to all my friends, and they love it when they try it. 03/18/2014
Rated 5 out of 5 by SonyaL Marvelous Moxie Lipgloss I love the look and feel of this lipgloss. Why is Maverick still out of stock? It's been months!! 02/11/2014
Rated 1 out of 5 by sweetpea11 Leaves 'sticky' feeling Not impressed. Left my lips feeling like they had glue on them. Color is nice if you can deal with the sticky feeling. Returned mine. 02/06/2014
Rated 4 out of 5 by In LOVE Easy breezy grab and go I was/am a Buxum lady but tried a few Moxies in kits that I purchased. FYI most I fell in love with are ONLY available in kits:( since results were good thought I'd try Daredevil love this one. Nice pop but still low key. Tried again with Game Changer again nice true color. You can apply over Pretty Amazing and get that strong red red lip. Both can be layered for stronger color. No drying of the lips. Didn't give all 5 starts because I have reapply more then I like:( 02/05/2014
Rated 5 out of 5 by ChloebellesMommy Best lipgloss I've EVER USED! I've got this lipgloss in Daredevil and Stunner and a few other colors that came in some collections. I love the way it feels on my lips, it works better on chapped lips to heal than any "chapstick" I've ever used! The colors truly enhance your lips and doesn't look like you've caked color on your lips. I no longer wear ANY lipstick. I just stick to this lip gloss. I've even used it on my 5 year old and 3 year old in a very light neutral shade when their lips were very chapped to help their cracked lips and no one even knew they had anything on their lips because it was just so natural! 02/02/2014
Rated 5 out of 5 by MissD22 Best Lipgloss by far Love love love this lipgloss. Doesn't feel sticky on the lips and gives just enough colour to wear alone or on top of lipstick. Definitely be purchasing more of this product. 02/01/2014
Rated 5 out of 5 by Slater Amazing lipgloss I absolutely love this lipgloss and almost anything from Bare Minerals. The lipgloss really compliments my skin tone. It does not irritate my lips. It does not dry my lips out or come off easily. 01/19/2014
Rated 3 out of 5 by risser Doesn't Hit the Mark While this lip gloss definitely has the color, I find this lip gloss a little bit lacking. I have five different lip glosses from various kits, four which are full size. All of the colors except for one look surprisingly good with my medium beige skin tone. I have Sparkplug (as a mini) and four full-sized from a kit I bought which are: Future Star, Real McCoy, Free Spirit, and Dreamer. The only one I don't like is Dreamer because even though it's more a nude tone, it makes my lips look orangey, which is strange for my rosey lips. My biggest complaint about the lip glosses though are the weird taste they give off. They smell a bit almost like root beer and although I don't eat my lip gloss, the taste still goes into my mouth and is gross. My other complaint is that the lip glosses are too sticky. I really prefer Neutrogena's MoistureShine lip gloss though because it gives a great color (like BE) but also lasts a while with no taste. All in all, the BE's lip gloss misses the mark for me though. I wear it for shine over the Moxie lipstick to give an added pop, but I'll stick to Neutrogena. I guess I just can't get over the taste or smell especially because it makes other things I eat/drink taste that way too. 12/24/2013
Rated 5 out of 5 by WendyR Love this gloss I love this gloss, fills in lines for a smoother and plumper look. Now that its colder in NYC I wear it over JACK OF ALL TRADES lip balm. 11/27/2013
Rated 5 out of 5 by LovingATX Only Moxie for Me I love to use my moxies alone or on top of a lip colors. My lips look plump and put together. My favorite was the limited edition Stylista, a nude peach! 10/30/2013
Rated 5 out of 5 by FLBeachBlonde Wow! Before I used this product, I was skeptical because, I have tried and been disappointed by natural lip glosses by other brands and the price was a bit steep for me but, boy was it worth it! The first time I used it, I fell in love and had to buy all of the sets! All of the colors are stunning, plumping, and non-sticky! I highly recommend this product! 10/14/2013
Rated 5 out of 5 by shellbell12 Love this Gloss The Marvelous Moxie line is the best lip gloss I have ever used. There's something about it when you first put it on that just feels amazing. It feels high quality. And it smells so good! 10/04/2013
Rated 5 out of 5 by Sienna Moxie show off lipgloss This is a very pretty lipgloss. It has a beautiful sheen and a nice pumping effect to the lips. I recommend going into a boutique to find your perfect shade as some colors look different online versus in person. 10/01/2013
Rated 5 out of 5 by elizey7 Best Lipgloss Ever I was anxious about trying this new lipgloss, because I thought the shape of the wand would feel awkward on my lips. I was very pleasantly surprised, however, when I realized that the application process felt incredibly natural. I had a blister on my lip when I tried it, and when I took off my makeup before I went to bed, I was pleasantly surprised that the blister had improved. Not only does the lipgloss apply well and feel amazingly soft, but it actually improves the overall health of your lips. I LOVE THIS!!! 07/10/2013
Rated 5 out of 5 by Jenerator8 First Time User, Lifetime Convert! I purchased a sample kit of Moxie Lipgloss at the Bare Excentuals store in the mall because the price was incredible. I usually use blistex because it makes my lips feel good. I hate lipstick and have been purchasing tinted lip balm. Not anymore. Moxie lipgloss is amazing. Minty tingle and odor. No awful taste. It totally completes my face. I have been getting tons of compliments on my makeup and the only thing I've changed is that I now wear Moxie. It actually makes me look younger because my lips look fantastic. I got six colors in the kit and I love them all. I keep the one I'm wearing for the day either in my pocket or on my desk. You have to understand, this is true conversion. It may actually now be an addiction. Now that I have said this, Bare Escentuals better keep these around. I will be so lost without them. This is now my favorite product. It actually makes me feel good about my makeup. 07/03/2013
Rated 5 out of 5 by kanika My First Favorie Lipgloss!!!!! I never used to like lipgloss before using moxie(tried buxom before, which was ok too). This is less pigmented than buxom original & full color lipglosses in particular(love 1 or 2 colors in both). I like the slight plumping, rich colors in this are the best like my all-time favorite Dare devil & Ring leader(light but very pretty & unique), then nudes or neutrals Risk taker/Free spirit/Rule braker & in lip liner in revved. Only wish and a dream come true is that they were made vegan. BTW, Packaging is nice(black color cap is elegant , but matching the cap with lipstick color would be great convenience).Thanks.... 07/02/2013
Rated 5 out of 5 by SynN So great it's almost ridiculous I just received my tri-monthly BE shipment and inside was a deluxe sample of Marvelous Moxie Lipgloss in Maverick. I literally put it on 10 minutes ago and just had to write a review. First of all, Maverick is a color that I would never choose for myself (it looks quite dark on the site and only slightly lighter in the bottle, & I have very fair skin) but I have to say it looks crazy amazing on! Not to mention the fabulous minty feeling, not overwhelming, it starts off subtle and grows to a nice steady cooling sensation. Not as important, but still nice to note is that it smells kind of delicious when you open the bottle. I'm not generally one to write a review, and honestly this product needs no endorsement or introduction, but I wanted to get this out there for the people who don't wear lipgloss / are on the fence / haven't had a chance to sample it / don't know if it's worth the money. This really is awesome and everyone should find a way to try it out at least once. 06/22/2013
Rated 5 out of 5 by aljf9977 Natural plump juice lips I never wear makeup so this is my first time buying a lip gloss. I choice the rebel color cause it gave a natural color. I love it! And want to buy a bright color that will show off my lips more. Very happy with my purchase. Price in a little high but I'm ok with it! I'm so happy with this gloss! 06/11/2013
Rated 5 out of 5 by jb0922 Fantastic Product!! I use MOXIE lipgloss every single day. In fact, I keep it out on my desk during work! I LOVE Rebel. It has a minty tingle when you use it that I just love for an extra burst of special. Have tried other lipglosses in the past, but MOXIE is the very best. It stays in place, and is long-lasting. Definitely my new go-to for my lips! I highly recommend it if you haven't tried it. You're sure to find the perfect color to compliment your complexion too! A fantastic product! Thanks so much! 05/30/2013
Rated 5 out of 5 by Sunstreakedred Finally Found The One... ...Perfect Lip Gloss! Natural and light with a soft subtle plump and lovely sheen. Maverick is the perfect color for any occasion, day or night. 05/29/2013
Rated 5 out of 5 by Terra Daredevil Daredevil is my new favorite color! It definitely stands out against my fair complexion. I love it! 04/29/2013
Rated 5 out of 5 by Louie Keeps moisturizing for hours! I purchased Rebel and plan to order it again. This lip color is very moisturizing and lasts for hours. I wish it was a little less sticky, but that is probably the property that makes it last so long. I do a lot of talking and smiling working with the public so I need something that is not going to wear off. The color Rebel is perfect; a beautiful pink that is not overpowering and yet it complements my dark brown eyes and salt & pepper gray hair. Love this product. Would highly recommend. 04/23/2013
Rated 3 out of 5 by TravelQween Bad Flavor I purchased the Maverick shade and love it. However, the smell and taste seem kind of "off" to me. I've never had this problem before and don't wear it as much as I would if it weren't for the taste. 04/13/2013