Close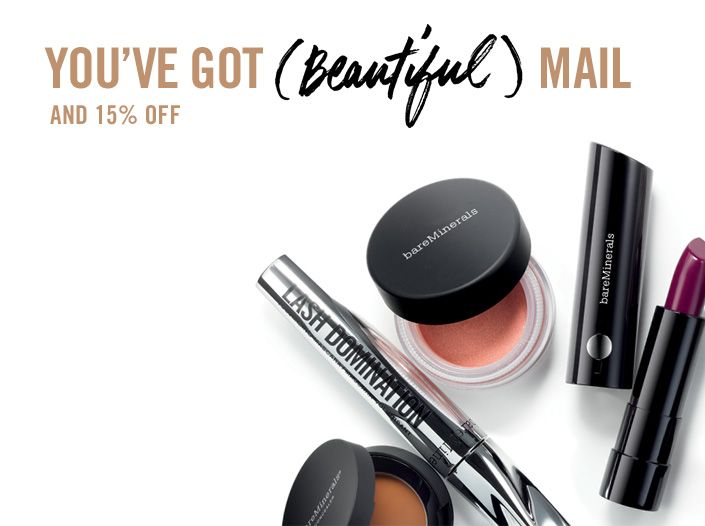 Give your inbox the make-under it deserves. Sign up to receive emails from yours truly. Receive an e-mail with a code for 15% off your next order. You'll be the first to know about NEW products, score tips & tricks, find out what's happening on the bareBlog…and so much more.
LET'S KISS & MAKEUP
Sorry for letting you down with this broken link. We hate keeping you from getting your beauty fix.
Click here to get your shopping (back) on.
Marvelous Moxie® Lipgloss
Color: Rule Breaker
Description: Sparkling nude
Coverage: Sheer-to-medium
Texture: Satiny-smooth
Finish: Glistening shine
Embark on a total thrill glide with Marvelous MoxieTM Lipgloss. Luscious, vibrant color loaded into a refreshing formula that slips on satiny-smooth for sheer-to-medium coverage with nonstop glistening shine. Lips look fuller and more voluptuous. Naturally-derived Shea, Avocado and Murumuru butters help to deeply hydrate and smooth lips while an infusion of minerals revitalizes lips for a healthy-looking pout. All the while, an encapsulated vitamin A, C and E complex helps to deliver antioxidant defense, so you're ready for anything—and everything.
Size: 4.5 mL / 0.15 Fl. Oz.
Brilliant sheer-to-medium color
Nonstop shine
Glides on satiny-smooth
Fabulously full, deeply moisturized lips that won't quit
Real Results:
Clinically tested to deliver smoother, hydrated, fuller-looking lips
100% of women experienced an improvement in lip hydration after 48 hours.*
80% of women showed an improvement in the look of lip fullness after 48 hours.*
*Based on an independent U.S. clinical study
Hydrogenated Polyisobutene, Tridecyl Trimellitate, Polyglyceryl-2 Triisostearate, Octyldodecanol, Bis-Diglyceryl Polyacyladipate-2, Microcrystalline Wax (Cera Microcristallina/Cire Microcristalline), Trimethylolpropane Triisostearate, Stearalkonium Hectorite, Menthone Glycerin Acetal, Butyrospermum Parkii (Shea) Butter, Persea Gratissima (Avocado) Butter, Vp/Hexadecene Copolymer, Silica Dimethyl Silylate, Ethylhexyl Palmitate, Euphorbia Cerifera (Candelilla) Wax (Candelilla Cera/Cire De Candelilla), Vanillin, Tribehenin, Mentha Piperita (Peppermint) Oil, Astrocaryum Murumuru Seed Butter, Lavandula Angustifolia (Lavender) Flower Wax, Retinyl Palmitate, Tocopherol, Ascorbyl Palmitate, Sorbitan Isostearate, Zinc Gluconate, Copper Gluconate, Sodium Chloride, Palmitoyl Tripeptide-1. May Contain (+/-): Mica, Carmine (Ci 75470), Titanium Dioxide (Ci 77891), Iron Oxides (Ci 77491, Ci 77492, Ci 77499), Red 6 (Ci 15850), Red 28 Lake (Ci 45410), Yellow 5 Lake (Ci 19140), Blue 1 Lake (Ci 42090).
Rated 4.4 out of 5 by 118 reviewers.
Rated 4 out of 5 by India789 Good Lip Gloss...Sill Miss Buxom I sometimes have a love hate relationship with BE. I seems anytime I find a product I love, it seams to go away. This is no different. Two colors I loved are now only available in the club. So sad.... This product is not as good as the Buxom, it is much stickier. Colors I fall in love with seem to go away as well. That is why they only get 4 hearts. 05/17/2015
Rated 1 out of 5 by TanteGrusom Allergic reaction Love the smell, the color, love the texture. But got small blisters all over my lips, looking like a freak for a week. Loved the old lipgloss, wish they would bring it back. 05/12/2015
Rated 5 out of 5 by HSteacher great gloss! this product last a long time, and applies very easily. I would strongly recommend this to anyone! 05/05/2015
Rated 5 out of 5 by Verified Reviewer love it!! I have this in Dare Devil and get compliments all day and you can make it darker by adding more coats. Love it!! 03/16/2015
Rated 5 out of 5 by Roselover Stays put- no smears! I have a hard time finding a lip product that doesn't leak onto my skin as I have very thin lips without a definite border. This this is truly marvelous and earns it's name. When I apply it on my lower lip and rub my lips together it covers completely and neatly. I don't need a mirror and don't need to be afraid of looking like the Joker on Batman movies 03/16/2015
Rated 5 out of 5 by GADarwin Best Lip Gloss I ever had! I received this lip gloss as a gift for my birthday from bare minerals and didn't think much of it at first. Then, later in the day, I put it on and loved it. It added just a little color to my lips, which is one of my main problems, and best of all, it smells like chocolate and mint to me! Plus, it doesn't leave your lips all sticky. 02/17/2015
Rated 5 out of 5 by Pamcakes8 Love this lip gloss I really love this lip gloss. I got the Rule Breaker for my birthday from the FAB rewards program they have. It has a beautiful color and goes on smooth and feels good on. I also LOVE the smell, it reminds me of Girl Scout Thin Mints, but the smell is subtle, not overpowering. The applicator is also very nice and gets the gloss on very easily and effectively. 02/05/2015
Rated 4 out of 5 by Verified Reviewer Good Lip Gloss! I gave this 4 stars only because it's $18/tube. I ordered the Rebel shade only because it's $1 and I felt lip gloss is worth trying for a dollar! Love the Rebel shade! I struggle finding a subtle lip color. I don't usually wear any color on my lips...mostly because my husband hates it on his lips ;). The lip gloss is a bit thick, but I don't know of any lip glosses that aren't thick. I get my hair in it no matter what lip gloss I wear on a windy day! So overall, great color and the minty tingle/flavor is awesome! The lip gloss seems to last a little longer than other glosses I have used. The color stays on pretty well! If the cost would have been about $9/tube I would have definitely given this 5 stars and probably would have bought a few other shades. 02/05/2015
Rated 5 out of 5 by KYgirl LOVE! I absolutely love BE's moxie lip glosses! I have several & every color is beautiful. I have yet to find a color I do not like. The lip gloss is moisturizing & I love the tingling feeling you get when you first put it on. 01/12/2015
Rated 5 out of 5 by DreamingGirl Marvelous! I have the color rebel in this product and I LOVE it! Some lip glosses are extremely sticky and gross, but this lip gloss is way different! Yes, of course this product is a little sticky, but IT'S LIP GLOSS! It makes my lips feel fresh and the plumping agent is amazing! Over all I absolutely love this product and hands down is my favorite lip gloss! 01/07/2015
Rated 1 out of 5 by Korat Wish I knew, but ... I just received as a free gift. From what I can tell, it seems okay, however, after using just twice, the container broke where you insert the wand. I literally just went into my cosmetic bag to apply for the second time today and found a sticky mess everywhere! MAJOR disappointment. Wish I could have been able to rate whether to love it or leave it - glad it was free. 12/15/2014
Rated 5 out of 5 by NanaG Smooth & Moisturizing Love this product. Keeps my lips soft and moist. Colors are great. The plumper works wonderfully. Goes on smooth and stays glossy. 12/12/2014
Rated 3 out of 5 by jenjens31 Love the Product, Don't love the Price I love the peppermint tingle the best!!! I like the texture of this gloss. It is sticky but not *too* sticky. I am bummed at what you get for the price though. It seems to use up fast and just seems a little spendy at $18/ tube. 10/28/2014
Rated 4 out of 5 by stokes21 Pleasantly Surprised I am not one for lipstick or lip gloss by any means. I always found it either tastes bad, gets in your mouth, doesn't last and rarely looks the way you want it to. I received Marvelous Moxie "Rebel" as a sample. I was surprised at how big the sample tube was. I expected to get some lip gloss in a little packet that I had to put on with my fingers! Yes, it is thick but I didn't mind it. The colour was subtle, not over stated and I fell in love with the shiny gloss it created on my lips. There is a tingling sensation but I think this is normal rather than a reaction. It certainly doesn't last all night but one swipe gets you back to full shine! All in all I was pleasantly surprised with how much I liked this gloss and will definitely be purchasing more in the future. And that's saying something for someone who normally refuses to wear anything on their lips! 10/26/2014
Rated 3 out of 5 by meeeee Got for my birthday... I got the marvelous Moxie shade in rule breaker for my birthday, and to be honest, I think it's not worth the money. There's so many better lip glosses out there (like NYX butter gloss). This one is definitely shiny but a little too thick for my liking, and the lip applicator seems flimsy. The samples in the store were broken! It's alright, but one thing I love about it is that it's minty! 10/25/2014
Rated 2 out of 5 by BBBP Miss the Buxom especially the Lana This isn't bad but it's not like your Buxom which, for some reason, went to Sephora. Now Sephora doesn't even have much of that! I agree too that this is very sticky and thick. It almost has a greasy feeling to it. 10/25/2014
Rated 5 out of 5 by bareMineralsMaven The PERFECT lip gloss!!! OMG! This Marvelous Moxie is the perfect lip gloss! I have colors: rule breaker, ring leader, hot shot, maverick, smooth talker, spark plug, and rebel (plus all 6 colors in the Kissing Booth kit). I love how the glosses give me color without being overpowering on my pale skin. The shiny color is beautiful and it even has a plumping agent (that's the tingling mint everyone is talking about). It feels cool and refreshing. My newest exciting trial is adding the Marvelous Moxie lip liner over the top of the gloss. Gives it just a teeny bit of extra color for a more dramatic look without looking matte or cream like a lipstick. 10/23/2014
Rated 2 out of 5 by mel132 Not a fan I've tried two of the the Moxie Lipglosses (Rebel and Heartbreaker). The colors are nice, but I can't really wear them because it results in an intense tingling sensation on my lips (and my tongue if I happen to touch it to my lips). The sensation is a little less severe if I apply the lipgloss over top of the Moxie lipsticks. I preferred the original lipgloss that BE used to sell but has sadly discontinued. 10/08/2014
Rated 1 out of 5 by SocaAddict Definitely not for me I have been a fan of BE since its early years because of my very sensitive skin. I love the high quality of the products, but this one was an epic fail for me. I received the Spark Plug color as a gift (thank goodness). Although the color is pretty, I immediately experience a BURNING sensation on my lips. There is peppermint oil in the lip gloss which does not work for my skin. Trying to get it off was a disaster, as it was made to stay on it became a sticky mess to get off. Imagine me all frantic to end the torture. The burning stopped about ten minutes after I got the gloss off. I am aware that I may be in the minority on this one, but ignore this product if you have sensitive skin. 09/02/2014
Rated 5 out of 5 by Maggie83 Wonderful stickiness Some people don't seem to like how sticky this stuff is, but I think it's fantastic. The color is great, it lasts a long time, and it makes me stop biting my lips. 08/27/2014
Rated 3 out of 5 by cateye616 Not Super Impressed I really wanted to like this, but I found that mine was too sticky. Whenever I talk I feel like I have to pry my lips apart. It gives such great color (I have Maverick), but I don't wear it very often because of the thick, sticky consistency. On the plus side, it tastes and smells like Thin Mints (the Girl-Scout cookie). 08/20/2014
Rated 4 out of 5 by BareAlaska Great lip gloss! I just tried on Smokin Hot and I love it! The color is what I expected, and the color on my lips is the same as in the tube! I also love that the smell is not overpowering. It's kind of minty combined with something else I can't put my finger on. The only reason I'm not giving it 5 stars is because it is a little sticky but nothing I can't deal with. 08/01/2014
Rated 5 out of 5 by vasu The best one It's the best i ever tried. The color hot shot is so good. It provides great moisture and a great shine at the same time 07/27/2014
Rated 5 out of 5 by jessica24 Great Lip Gloss! These lip glosses are my favorite (next to the Buxom ones). This color looks amazing with everything and I get compliments all the time. It goes on smooth, not sticky and lasts for hours without reapplying. It also smells good, like vanilla mint. Would definitely recommend! 07/03/2014
Rated 5 out of 5 by Angelena Best gloss ever! I have this in Rebel! I love it because it isn't sticky, has a pleasant calm scent, it feels great on the lips and doesn't run outside of the lips even on hot yucky days! 06/30/2014
Rated 5 out of 5 by trinityaz I am in love! I am not a lip gloss/lipstick kind of girl, and typically I will just use a sheer balm at most. I have such light skin and auburn hair, and for me I just always felt like lip color just made me look even more pale and like I was playing in my mom's makeup, if you know what I mean. I got a free sample of Maverick Moxie lip gloss with my bare minerals order, and tried it out, just knowing that it was going to be too dark and too much for me. Wow, was I wrong! I was totally blown away by how gorgeous the color was and how perfectly it accented my skin tone. I have never had an experience like that with lip color, and am totally obsessed with the Maverick shade now. I also love how the gloss does tingle your lips a bit, and it lasts a really long time (several hours if you drink with a straw). Would recommend this gloss to anyone, and especially the Maverick shade for light-skinned redheads such as myself. 06/22/2014
Rated 4 out of 5 by MichelleMac Very pretty, very sheer color I received 'Smooth Talker' in a kit and I'm really enjoying it. It can be worn alone for a very, very sheer wash of color and sparkle or on top of your favorite lip color to really make it pop. I think B.E. has a good thing going with these Marvelous Moxie lip glosses and lipsticks (I LOVE 'Light it Up') and I hope they continue making them and adding new colors. 06/21/2014
Rated 5 out of 5 by hhaallee Favorite Summer Gloss! I just got a new job with a business casual dress code, meaning a lot of black, white, and neutral colors. This gloss is amazing and adds a pop of color whether worn alone or paired with a lipstick, so I still feel like I can make a statement in my boring outfits. Plus it leaves my lips super hydrated! 06/06/2014
Rated 5 out of 5 by Gaelic Who was the first great "MAVERICK" ? This lip gloss is just as charming, sexy, and kissable as Tom Cruise in his role as Maverick in "Top Gun"!! The true color is not reflected in the display above. It's a warm, rich rose with a hint of brown. A real color for real lips! A perfect color for a red head! The shine is fabulous, and lasts a long, long time. I haven't had the chance to give it the "kissing" test, but if any one knows where Tom can be found, I'd be happy to give it a try and report back to to all BE fans!! Add this color to your permanent list of "Keeper--Must haves"! 06/06/2014
Rated 5 out of 5 by Mom314 great lipgloss prefect shine, not too much or too little. looks great over the lipbalm and over the marvelous moxie lipsticks , you can even wear it it alone. it gives a more natural look and feels great its awesome a must have. 05/24/2014
Rated 4.4 out of 5 by 118 reviewers.
Rated 4 out of 5 by India789 Good Lip Gloss...Sill Miss Buxom I sometimes have a love hate relationship with BE. I seems anytime I find a product I love, it seams to go away. This is no different. Two colors I loved are now only available in the club. So sad.... This product is not as good as the Buxom, it is much stickier. Colors I fall in love with seem to go away as well. That is why they only get 4 hearts. 05/17/2015
Rated 1 out of 5 by TanteGrusom Allergic reaction Love the smell, the color, love the texture. But got small blisters all over my lips, looking like a freak for a week. Loved the old lipgloss, wish they would bring it back. 05/12/2015
Rated 5 out of 5 by HSteacher great gloss! this product last a long time, and applies very easily. I would strongly recommend this to anyone! 05/05/2015
Rated 5 out of 5 by Verified Reviewer love it!! I have this in Dare Devil and get compliments all day and you can make it darker by adding more coats. Love it!! 03/16/2015
Rated 5 out of 5 by Roselover Stays put- no smears! I have a hard time finding a lip product that doesn't leak onto my skin as I have very thin lips without a definite border. This this is truly marvelous and earns it's name. When I apply it on my lower lip and rub my lips together it covers completely and neatly. I don't need a mirror and don't need to be afraid of looking like the Joker on Batman movies 03/16/2015
Rated 5 out of 5 by GADarwin Best Lip Gloss I ever had! I received this lip gloss as a gift for my birthday from bare minerals and didn't think much of it at first. Then, later in the day, I put it on and loved it. It added just a little color to my lips, which is one of my main problems, and best of all, it smells like chocolate and mint to me! Plus, it doesn't leave your lips all sticky. 02/17/2015
Rated 5 out of 5 by Pamcakes8 Love this lip gloss I really love this lip gloss. I got the Rule Breaker for my birthday from the FAB rewards program they have. It has a beautiful color and goes on smooth and feels good on. I also LOVE the smell, it reminds me of Girl Scout Thin Mints, but the smell is subtle, not overpowering. The applicator is also very nice and gets the gloss on very easily and effectively. 02/05/2015
Rated 4 out of 5 by Verified Reviewer Good Lip Gloss! I gave this 4 stars only because it's $18/tube. I ordered the Rebel shade only because it's $1 and I felt lip gloss is worth trying for a dollar! Love the Rebel shade! I struggle finding a subtle lip color. I don't usually wear any color on my lips...mostly because my husband hates it on his lips ;). The lip gloss is a bit thick, but I don't know of any lip glosses that aren't thick. I get my hair in it no matter what lip gloss I wear on a windy day! So overall, great color and the minty tingle/flavor is awesome! The lip gloss seems to last a little longer than other glosses I have used. The color stays on pretty well! If the cost would have been about $9/tube I would have definitely given this 5 stars and probably would have bought a few other shades. 02/05/2015
Rated 5 out of 5 by KYgirl LOVE! I absolutely love BE's moxie lip glosses! I have several & every color is beautiful. I have yet to find a color I do not like. The lip gloss is moisturizing & I love the tingling feeling you get when you first put it on. 01/12/2015
Rated 5 out of 5 by DreamingGirl Marvelous! I have the color rebel in this product and I LOVE it! Some lip glosses are extremely sticky and gross, but this lip gloss is way different! Yes, of course this product is a little sticky, but IT'S LIP GLOSS! It makes my lips feel fresh and the plumping agent is amazing! Over all I absolutely love this product and hands down is my favorite lip gloss! 01/07/2015
Rated 1 out of 5 by Korat Wish I knew, but ... I just received as a free gift. From what I can tell, it seems okay, however, after using just twice, the container broke where you insert the wand. I literally just went into my cosmetic bag to apply for the second time today and found a sticky mess everywhere! MAJOR disappointment. Wish I could have been able to rate whether to love it or leave it - glad it was free. 12/15/2014
Rated 5 out of 5 by NanaG Smooth & Moisturizing Love this product. Keeps my lips soft and moist. Colors are great. The plumper works wonderfully. Goes on smooth and stays glossy. 12/12/2014
Rated 3 out of 5 by jenjens31 Love the Product, Don't love the Price I love the peppermint tingle the best!!! I like the texture of this gloss. It is sticky but not *too* sticky. I am bummed at what you get for the price though. It seems to use up fast and just seems a little spendy at $18/ tube. 10/28/2014
Rated 4 out of 5 by stokes21 Pleasantly Surprised I am not one for lipstick or lip gloss by any means. I always found it either tastes bad, gets in your mouth, doesn't last and rarely looks the way you want it to. I received Marvelous Moxie "Rebel" as a sample. I was surprised at how big the sample tube was. I expected to get some lip gloss in a little packet that I had to put on with my fingers! Yes, it is thick but I didn't mind it. The colour was subtle, not over stated and I fell in love with the shiny gloss it created on my lips. There is a tingling sensation but I think this is normal rather than a reaction. It certainly doesn't last all night but one swipe gets you back to full shine! All in all I was pleasantly surprised with how much I liked this gloss and will definitely be purchasing more in the future. And that's saying something for someone who normally refuses to wear anything on their lips! 10/26/2014
Rated 3 out of 5 by meeeee Got for my birthday... I got the marvelous Moxie shade in rule breaker for my birthday, and to be honest, I think it's not worth the money. There's so many better lip glosses out there (like NYX butter gloss). This one is definitely shiny but a little too thick for my liking, and the lip applicator seems flimsy. The samples in the store were broken! It's alright, but one thing I love about it is that it's minty! 10/25/2014
Rated 2 out of 5 by BBBP Miss the Buxom especially the Lana This isn't bad but it's not like your Buxom which, for some reason, went to Sephora. Now Sephora doesn't even have much of that! I agree too that this is very sticky and thick. It almost has a greasy feeling to it. 10/25/2014
Rated 5 out of 5 by bareMineralsMaven The PERFECT lip gloss!!! OMG! This Marvelous Moxie is the perfect lip gloss! I have colors: rule breaker, ring leader, hot shot, maverick, smooth talker, spark plug, and rebel (plus all 6 colors in the Kissing Booth kit). I love how the glosses give me color without being overpowering on my pale skin. The shiny color is beautiful and it even has a plumping agent (that's the tingling mint everyone is talking about). It feels cool and refreshing. My newest exciting trial is adding the Marvelous Moxie lip liner over the top of the gloss. Gives it just a teeny bit of extra color for a more dramatic look without looking matte or cream like a lipstick. 10/23/2014
Rated 2 out of 5 by mel132 Not a fan I've tried two of the the Moxie Lipglosses (Rebel and Heartbreaker). The colors are nice, but I can't really wear them because it results in an intense tingling sensation on my lips (and my tongue if I happen to touch it to my lips). The sensation is a little less severe if I apply the lipgloss over top of the Moxie lipsticks. I preferred the original lipgloss that BE used to sell but has sadly discontinued. 10/08/2014
Rated 1 out of 5 by SocaAddict Definitely not for me I have been a fan of BE since its early years because of my very sensitive skin. I love the high quality of the products, but this one was an epic fail for me. I received the Spark Plug color as a gift (thank goodness). Although the color is pretty, I immediately experience a BURNING sensation on my lips. There is peppermint oil in the lip gloss which does not work for my skin. Trying to get it off was a disaster, as it was made to stay on it became a sticky mess to get off. Imagine me all frantic to end the torture. The burning stopped about ten minutes after I got the gloss off. I am aware that I may be in the minority on this one, but ignore this product if you have sensitive skin. 09/02/2014
Rated 5 out of 5 by Maggie83 Wonderful stickiness Some people don't seem to like how sticky this stuff is, but I think it's fantastic. The color is great, it lasts a long time, and it makes me stop biting my lips. 08/27/2014
Rated 3 out of 5 by cateye616 Not Super Impressed I really wanted to like this, but I found that mine was too sticky. Whenever I talk I feel like I have to pry my lips apart. It gives such great color (I have Maverick), but I don't wear it very often because of the thick, sticky consistency. On the plus side, it tastes and smells like Thin Mints (the Girl-Scout cookie). 08/20/2014
Rated 4 out of 5 by BareAlaska Great lip gloss! I just tried on Smokin Hot and I love it! The color is what I expected, and the color on my lips is the same as in the tube! I also love that the smell is not overpowering. It's kind of minty combined with something else I can't put my finger on. The only reason I'm not giving it 5 stars is because it is a little sticky but nothing I can't deal with. 08/01/2014
Rated 5 out of 5 by vasu The best one It's the best i ever tried. The color hot shot is so good. It provides great moisture and a great shine at the same time 07/27/2014
Rated 5 out of 5 by jessica24 Great Lip Gloss! These lip glosses are my favorite (next to the Buxom ones). This color looks amazing with everything and I get compliments all the time. It goes on smooth, not sticky and lasts for hours without reapplying. It also smells good, like vanilla mint. Would definitely recommend! 07/03/2014
Rated 5 out of 5 by Angelena Best gloss ever! I have this in Rebel! I love it because it isn't sticky, has a pleasant calm scent, it feels great on the lips and doesn't run outside of the lips even on hot yucky days! 06/30/2014
Rated 5 out of 5 by trinityaz I am in love! I am not a lip gloss/lipstick kind of girl, and typically I will just use a sheer balm at most. I have such light skin and auburn hair, and for me I just always felt like lip color just made me look even more pale and like I was playing in my mom's makeup, if you know what I mean. I got a free sample of Maverick Moxie lip gloss with my bare minerals order, and tried it out, just knowing that it was going to be too dark and too much for me. Wow, was I wrong! I was totally blown away by how gorgeous the color was and how perfectly it accented my skin tone. I have never had an experience like that with lip color, and am totally obsessed with the Maverick shade now. I also love how the gloss does tingle your lips a bit, and it lasts a really long time (several hours if you drink with a straw). Would recommend this gloss to anyone, and especially the Maverick shade for light-skinned redheads such as myself. 06/22/2014
Rated 4 out of 5 by MichelleMac Very pretty, very sheer color I received 'Smooth Talker' in a kit and I'm really enjoying it. It can be worn alone for a very, very sheer wash of color and sparkle or on top of your favorite lip color to really make it pop. I think B.E. has a good thing going with these Marvelous Moxie lip glosses and lipsticks (I LOVE 'Light it Up') and I hope they continue making them and adding new colors. 06/21/2014
Rated 5 out of 5 by hhaallee Favorite Summer Gloss! I just got a new job with a business casual dress code, meaning a lot of black, white, and neutral colors. This gloss is amazing and adds a pop of color whether worn alone or paired with a lipstick, so I still feel like I can make a statement in my boring outfits. Plus it leaves my lips super hydrated! 06/06/2014
Rated 5 out of 5 by Gaelic Who was the first great "MAVERICK" ? This lip gloss is just as charming, sexy, and kissable as Tom Cruise in his role as Maverick in "Top Gun"!! The true color is not reflected in the display above. It's a warm, rich rose with a hint of brown. A real color for real lips! A perfect color for a red head! The shine is fabulous, and lasts a long, long time. I haven't had the chance to give it the "kissing" test, but if any one knows where Tom can be found, I'd be happy to give it a try and report back to to all BE fans!! Add this color to your permanent list of "Keeper--Must haves"! 06/06/2014
Rated 5 out of 5 by Mom314 great lipgloss prefect shine, not too much or too little. looks great over the lipbalm and over the marvelous moxie lipsticks , you can even wear it it alone. it gives a more natural look and feels great its awesome a must have. 05/24/2014