Color: Soul Sister
Description: Deep midnight plum
Texture: Shimmer
Size: Small
Like fine wines and wildflowers, these plush purples are simultaneously sophisticated and playful, rich and delicate, soft and striking.
Size: Small (0.57 g / 0.02 Oz.)
Texture Guide

Matte: Our most opaque eyeshadow. Incredibly creamy color with a rich, velvety finish.

Sheen: Satiny soft and sheer with a touch of glow. Wear it dry for whisper effects, or wet for a more opaque sheen.

Shimmer: High intensity shimmer. Can be softer and more translucent when worn dry, but creates an opaque wash of high sheen-known as foiling-when worn wet.

Benefits

Vibrant, long-lasting colors can be mixed and matched for custom combinations
Offer your choice of textures, from sheer to opaque
All-natural consistency makes them easy to apply and blend seamlessly
Add rich, eye-illuminating accents
Use a 100% pure blend of natural minerals
Preservative-free to prevent eye irritation
Won't pull or tug at the sensitive skin around your eyes
Smoky looks.

Press Soul Sister onto the eyelid with a stiff brush to create a smoky eye.
Line softly.

Apply Soul Sister as your eyeliner on the top and bottom of the eye for a soft lined look.
Define yourself.

With a fluffy brush, apply Soul Sister to the crease for amazing definition.
Mica (CI 77019), Iron Oxides (CI 77499, CI 77491), Titanium Dioxide (CI 77891), Carmine (CI 75470), Ferric Ferrocyanide (CI 77510)
Rated

4.9

out of

5

 by

20

reviewers.
Rated

5

out of

5
 by
Verified Reviewer
So happy
The color matches the picture! I get so worried ordering makeup online when I can't see the color in person and know it's what I want. I was very glad it looked just like that! It's such a fun color and feels light on my skin even if I layer it on to get a very rich color.
12/03/2016
Rated

5

out of

5
 by
Bumblebee
Love the Purples for Green Eyes!
I love bare minerals eye colors; they're bright and blend-able, and they don't irritate my sensitive skin. I have been collecting purples to complement my green eyes. This is what I thought of the purples that I have: Heart: On my fair skin this is a not-too-light, not-too-dark color for all over the lid. It leans strongly towards pink, while still clearly being a shade of purple. This is a shimmer. Devotion: This shade is very similar to Heart, and if I use them both together they are hard to distinguish from one another. Devotion is another warm purple, but less pink and more true purple. This is also a shimmer. Intuition: This is my favorite. I find it similar to Heart and Devotion as far as intensity, but perhaps slightly darker. This is another shimmer. It is a very neutral shade of purple, so I have blended it successfully with both warm and cool colors. I often pair it with the Brocade shadow liner (a cool purple with gold sparkles) and Queen Linda (a neutral shade of shimmery gold). Popular: I just bought this one, and I'm still figuring out what to do with it. Its described as "iridescent plum", and its the first color I've bought with the texture described as "glimmer" instead of "shimmer". Its not just that it has little sparkles; the whole thing reflects light in a way that it almost seems to glow. Also, the color of the shine is GREEN, which is very neat looking but definitely not something I expected based on the description of the color. This is a very red purple, and unfortunately on my skin is the precise shade that hours of crying usually gets me. I feel like this would look much nicer on someone with darker skin than me, but I'm going to play with blending and see what I can do with it. I really do like that green shimmer.
08/28/2015
Rated

5

out of

5
 by
Verified Reviewer
every color=must have!
I discovered bareMinerals about six years ago and I have become an addict!! I have collected 53 colors of eyeshadow to include "devotion". I love it. I use devotion as my crease color, "heart" for my lid and "whisper" for my brow line color. It looks amazing. A trick I've learned,#1 keep a list of the colors you have. #2 when you find a color you love buy for the whole eye! Lid,crease and brow! You will never regret it!
07/24/2015
Rated

5

out of

5
 by
mebryant
The best eyeshadow on the market!
I have been a BareMinerals user for 10 years now (it is the only makeup I've ever worn). I have about 8 different shades of eyeshadows that have come in kits or been given as gifts since then. My absolute FAVORITE eyeshadow is "heart" which is in the plum family. Heart has a great sparkle to it which makes it more versatile than a typical purple eyeshadow. I wear this loose and dry for day to day wear and dip my shadow brush in water for a more dramatic look on fancier occasions. Of all my eyeshadows this is the only one I've had to restock in 10 years because I use it so often. Thank you BareMinerals for a great product! :)
02/16/2015
Rated

5

out of

5
 by
MoreColorsPlease
Intuition
Intuition is more of a rose shimmer than "Deep Eggplant" to me. I did apply the shadow and blend on my upper lid which I normally don't do, but I don't think that made a difference. It has very nice coverage and a beautiful shimmer which I always love. In the pictures I've applied 2 coats of Intuition over Well Rested powder as an eyelid primer with 2 coats of mascara. Hope this helps!
12/17/2014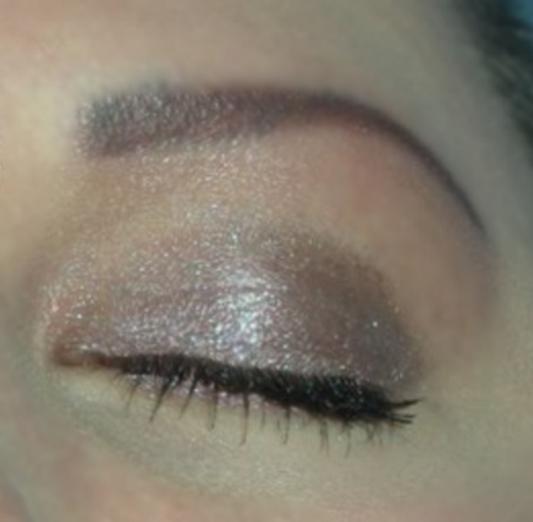 Rated

5

out of

5
 by
bareMineralsMaven
Devotion and Angel
I purchased both Devotion (softer purple shimmer) and Angel (bright more matte purple). At first I was worried the purples would be too dark for my fairly light skin, but when we tried them in store and my repeated use at home, the colors are perfect! I like more of a shimmer so I wear the light brown/tan Nude Beach underneath the Angel color to soften it up a little. The colors are wonderful pared together!
10/23/2014
Rated

5

out of

5
 by
LipGlossAddict
Queen Marie
Ordered Queen Marie after reading that it was a greyish lavender...that's the perfect description! I love this colour, have been wearing it every day.
10/17/2014
Rated

5

out of

5
 by
RachM
Heart
Heart was one of my very first BE eyecolor purchases 9 years ago and it's still a favorite. I prefer neutral eyecolors and Heart is a perfect touch of dusky color while still remaining neutral.
08/07/2014
Rated

5

out of

5
 by
lovinlife
beautiful color
Wildflower is GORGEOUS!!! I LOVE it! I'm sure I will be back to purchase more colors in this collection but I'm also sure, WILDFLOWER will always be my favorite! It fairly glows! Get it! You will be happy you did!!!
05/23/2014
Rated

5

out of

5
 by
885girl
My favorite product to experiment with
I have numerous shades with many more on the way. I love how soft these are on the skin and how versatile. You have just a little bit of color or you can build the color to whatever intensity your prefer. Right now I'm playing around with Wildflower a lot. I'm using it mostly in my crease at the moment with nudes and pinks. This is one that you can definitly leave very light and have just a hint of color (which I prefer due to my very light complexion) or build up to greater intesity for a big pop of color.
03/25/2014
(
2

Questions
 : 
5

Answers
)
Questions & Answers
Ask your questions. Share your answers.
Details: 
It's hard to differentiate the hues on the screen from the actual color. I'd like something as close as possible to Celestine.
Submitted by:
Brevard, NC
2 years, 9 months ago
Answers
Answer: 
Hello I love this color. I would try flaunt and moss together. :)
Submitted by:
Santa Clarita CA
2 years ago
Details: 
What's the difference? Some of the colors here are really pretty.
Submitted by:
NYC
3 years, 5 months ago
Answers
Answer: 
I have used my eyeshadows (a deep forest green and plum) as eyeliners multiple times! I just dip my eyeliner brush in water and then into the eyeshadow. It usually takes two applications if you want the color to last all day!
Submitted by:
Sioux Falls, SD
1 year, 11 months ago
---
Answer: 
I like to take a little of my eye shadow and take my eyeliner brush dip in some water and then in the eye color,. Its also called foiling.
Submitted by:
Santa Clarita CA
2 years ago
---
Answer: 
Pretty much any Bare Minerals/Escentuals eyeshadow can be used as eye liner as well. They are pigmented enough and long-lasting enough that they don't smudge like most other eyeshadows used as liners. Basically, all you need is an eyeliner brush. You can apply it dry for a lighter, smoother line, or dampen the brush first for a more defined, dramatic line.
Submitted by:
Boise, ID
3 years, 4 months ago
---
Answer: 
Hi
I hope this helps, but I'm by no means a makeup specialist. I love the shimmer colors and apply them with a damp brush to give the foiled technique. I us all the shimmer eye colors & the eyeliner shadows as a liner. I apply it with a thick eyeliner brush (damp) that I bought from Eco tools. I apply just below my lower lashes and if the line is too thick, I wait until it's dry and then use a damp cotton swab to erase it until it's as thin as I'd like. I just added some pics and a review of the Wildflower shadow, which shows how I apply my shadow as eyeliner. I'll add it to this answer so maybe you'll see it sooner. Hope this helps and have fun with your colors. You can use them for lots of stuff. Also search google, I've even seen a how to on using BE eye shadows to make a nail polish!

Submitted by:
Nashville, TN
3 years, 4 months ago